How to order an Apostille.
1. Review your documents.
Make sure that if the document is notarized(power of attorney, carta de poder, business, personal, commercial, financial documents) the Acknowledgment or Jurat has the right information, and the Notary Public is currently commissioned by the California Secretary of State (check it at Notary Public Listing).
If the document is a certification ( certificate of birth, marriage, death, divorce, acta de nacimiento, certificado de defuncion, matrimonio, divorcio)make sure that it is no older than 5 years and it is signed by the County Clerk(not an MD, doctor).
If you need a current certification or one signed by the county official, go to your county to get a certified copy of that document or order it online (www.VitalChek.com)
Once your documents are ready for the Apostille call 707-992-5551 to complete the Apostille Request Form. It will include where you want to receive the legalized documents (to your United States address or to the country of destination).
If you need English Spanish translation (certified, notarized) please call. You can email the documents to start the translation right away.
The Apostille are processed the same day that we receive your documents.
2. Send docs to:
Sergio Musetti, Notary Public
4005 Manzanita Ave, #6-155
Carmichael, CA 95608
Questions?  Contact us.
You can also pay by credit card (phone), cashier check, Paypal(below), Western Union, etc.
What is an Apostille?
An apostille or an authentication is a document that certifies the authenticity of the signature, seal and position of the official who has executed, issued or certified a copy of a public document. It allows a public document issued in one country to be recognized as valid in another country. Apostilles and authentications are often needed in adoptions, extraditions and certain business transactions.  An apostille is a certification form set out in a treaty called The Hague Convention Abolishing the Requirement of Legalization for Foreign Public Documents (1961). 
What does an Apostille do?

No need to go to your consulate if the country is a member of the Hague Convention (Mexico, Spain, Colombia, Venezuela, see the list of countries).  you can Apostille your documents and will be legal in the country of destination.
The object of the Apostille is to "abolish the requirement of diplomatic or consular legalization for foreign public documents". The completed Apostille certifies the authenticity of the signature, the capacity in which the person signing the document has acted, and identifies the seal/stamp which the document bears.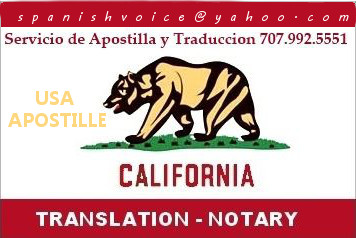 Read more: http://apostille.homestead.com/index.html#ixzz50VliYiP3
           Example of Death Certificate signed for the county clerk with half Apostille seal.
---
Apostille reviews from Yelp
Within 24 hours, Mr. Musetti completed a transaction, which included documents in Spanish to be filed in Puerto Rico, that had stalled for over a year.  He is very resourceful, courteous in his manner, not easily flustered, and with a "can do" attitude.  And his language skills – both in English and Spanish – are tops.  I recommend him wholeheartedly.  Emma S. Redding, CA
Sergio is a gem! He is so friendly and knowledgeable. He has been a notary for several years and also offers Apostille service. I recommend him to anyone needing a mobile Notary, or a notary who is experienced in presenting and notarizing loan documents too.  Sheila M. San Jose, CA
Sergio is the best!  We called and he immediately was willing to help us out and guide us through what needed to get done!  Even with the distance between us (we are two hours away), he was happy to help us out and get the job done right!
Thank you, Sergio!  Marquel T. Santa Rosa, CA
Best&Fast!!! I found Sergio online and emailed him what i needed. I like him because he respond me really fast. I got my Apostille within a week. I recommend him to anyone needing an Apostille faster.  Dj J. Los Angeles, CA