Sergio Musetti
,  Italian, Spanish – General Notary, Loan Signings, fingerprinting

Loan signing areas coverage: Sacramento, Yolo, El Dorado, Placer

Tel  (707) 992-5551 – Skype: spanishvoice

Sacramento Mobile Notary.  Certified Signing Agent and Notary Public since 2003, Sergio Musetti provides prompt, professional, "white glove" service to business and individuals, 24 hours a day, seven days a week.

Member of the National Notary Association and the California Mobile Notary Network, Sergio offers his services to attorneys, escrow officers, real estate agents, loan consultants, loan officers, mortgage brokers, hospitals, and the general public notarizing legal, business, real estate, financial, medical, electronic and other documents at your office, residence, or any other location convenient to you, like Starbucks. Corporate filings.

Areas of Service: Sacramento County general notary. Additional services: fingerprinting,  Spanish translation and interpreting.
Apostille Service.
Legalization of documents to use outside United States.
Source of Title.
Loan Related Services
The notary public is often the only person your clients ever meet in person. Let the face they see be the California Mobile Notary Network member who will represent your company in a professional and confidential manner and assure that your client receives the highest level of customer service. We meet with your clients at their home, workplace or other location of their choice at the time that is most convenient for them.
NOTARY SIGNING AGENT
A Notary Signing Agent is a Notary Public who is hired as an independent contractor to ensure that real estate loan documents are properly executed by the borrower, notarized, and returned for processing.  A Notary Signing Agent is not an employee of the lender or title company, but acts as a neutral third party to confirm the identity of the signer and assure that all documents are signed correctly.  Since state law and lenders often require certain forms to be notarized, a valid Notary commission is essential for persons performing loan document signings.  Typically, the Notary Signing Agent contracts with the lender or with a title or escrow company in the transaction to facilitate the signing.
Notary Signing Agent Services
Purchase
Refinance
Piggy-Backs (1st and 2nd)
Home Equity Lines of Credit (HELOCS)
Investment/Vacation Property Loans
Reverse Mortgage
E-Signings (Some Agents)
Structured Settlements
Fidelity Company approved (Some Agents)

Notary Services
Our network members are available to notarize many different types of documents.  Some of the most common are listed below ~

Advance Health Care Directives
Affidavit of Support
Apostille
Application for Domestic Partnership
Complete Loan Packages
Declaration of Homestead
Deed of Trust
Grant Deed
Marital Settlement Agreement
Medical Records
Patent Agreements
Permission to Travel
Power of Attorney
Pre-Nuptial Agreement
Quit Claim Deed
Spousal Consent Form
Timeshare Documents
Traffic School Final Exams
Trust Documents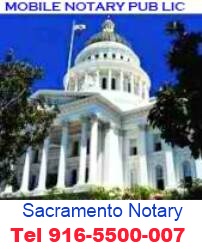 Sacramento mobile Notary Signing Agent.